DIY Glass Rangoli For Diwali
Posted on November 1, 2013 by Raksha There have been 0 comments
Think Diwali? Diyas, sweets, crackers, rangoli and shopping comes to our mind. I do not usually get the time to make a new rangoli each day during the diwali festival. So during a weekday, when I got some free time I decided to make a glass rangoli. Going through my craft treasures, I came across this glass painting which I had made some time back. Diwali being the occasion for this, I thought I can use this. Why not make a portable rangoli out of it?
So here is how you can create a glass rangoli on your own without wasting enough bucks on it:
What you'll need:
1. Glass
2. Rangoli design
3. Glitter tube
4. Glass paints
5. Stones
6. Diyas
7. Glue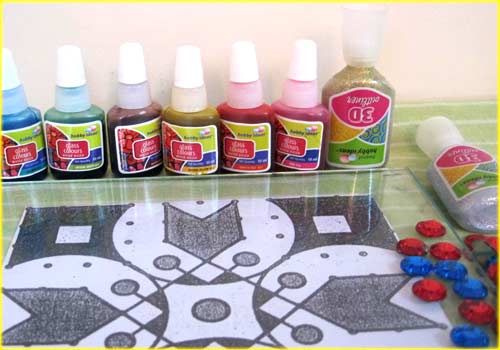 Step 1: Place a rangoli design you like under the glass. Use tape to make sure the paper does not move. Now trace the black outline with a golden glitter tube.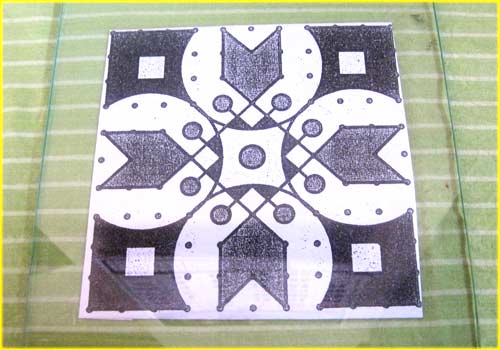 Step 2 : Once the glitter outline dries, use glass paints to fill color in it. Decorate the empty glass with crystal stones or ribbon.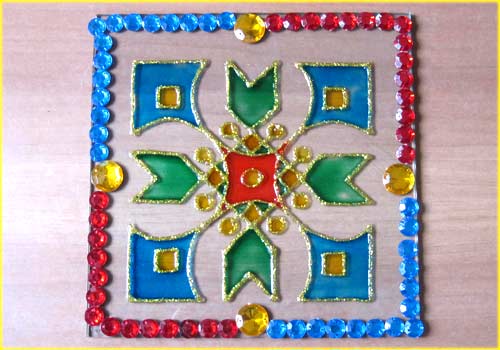 Step 3 : Let it dry! You are done. A beautiful rangoli is ready. Place a few diyas on it and decorate it at home.
What's best is that this glass rangoli is portable and mess free. Makes for a great gift too.
This post was posted in Children, Do-It-Yourself and was tagged with children, crafts, diwali, diy, glass painting, kids, rangoli